Our history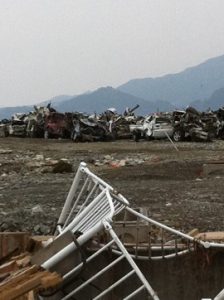 On March 11, 2011, an earthquake of magnitude 9.0 hit the north eastern coast of Japan. This earthquake triggered a great tsunami, and an oil spill caused by the tsunami caught fire and spread through our city of Kesennuma. These series of disasters took more 1,300 lives, destroyed more than 15,000 houses, and more than 9,500 families were affected in one way or another.
Among the affected were families with children that have special needs. These children, who are usually very calm began to act violently and their erratic behaviors increased. They could not stay in temporary shelters because of their behaviors and some suffered from recurrent vomiting and diarrhea out of shock. But very few people knew how much they were suffering.
Being remote, this area did not have sufficient services for children with special needs even before the disaster. After the disaster, the children were not in a condition to be able to attend school. Parents were at a loss as to how to help their children. The situation made it very difficult for parents to continue working, and they did not know who to go to for help.
Takumi Sato, now the chairman of the board of directors, was a local community leader at that time. He heard these parents' cry, "Our children stopped smiling. They are in so much pain yet they are not able to express themselves. Please provide a safe place for them. Please help us restore smiles to their faces. "
This was the turning point. One by one, people heard of this cry and came to help. As a result, a non-profit organization was established and officially registered on December 6, 2013, with a goal of building a facility for these children.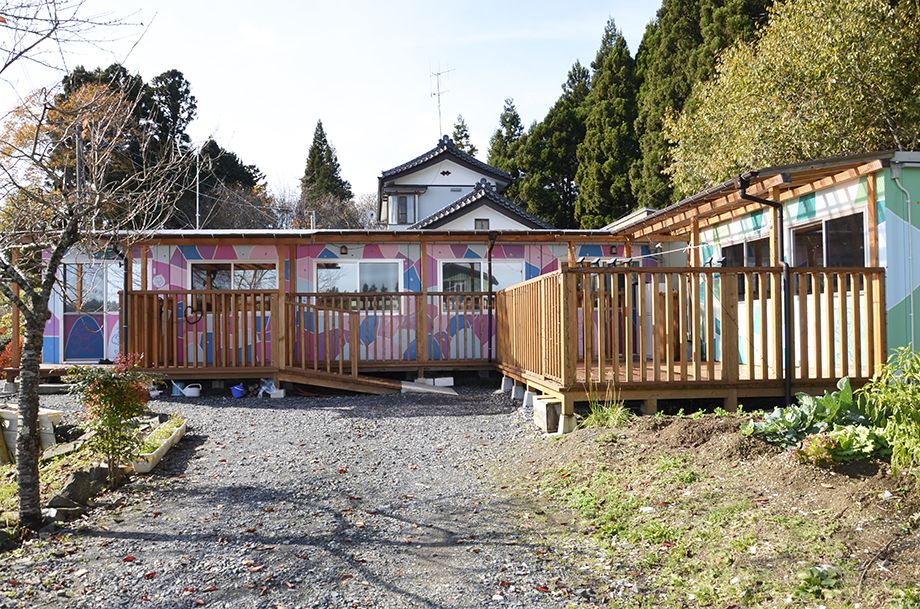 In February 2014, a daycare service for school-age children was launched to provide a place where children with special needs can enjoy spending time after school. This was followed with a daycare service for people with special needs over 18 years old and for children not yet in school. Next, a short stay service were added. Before the short stay service, parents were unable to make time for themselves to have some rest or to take care of their businesses.
Our utmost desire is to protect the dignity of these children with special needs and to see them thrive in the community.
In the 5 years since the disasters, we have been using a temporary facility, but the time has come for us to have a permanent facility. Our initial plan is to build our permanent building and a park to start with. We hope to continue developing further projects to help these children in our community.
"HOP": Daycare Service for kids' with special needs
We provide children with different activities and rehabilitation programs after school and on Saturdays.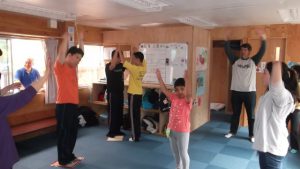 Our Programs Daily exercises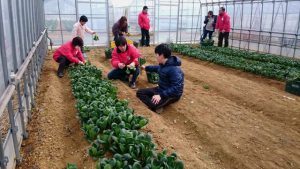 Helping farmers(March 2014)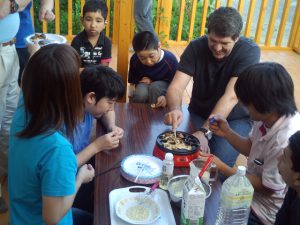 Cooking(September 2014)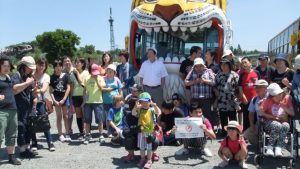 Daytrip with families (July 2015)
We have many other programs that our children enjoy very much.
Families'testimonials
My son uses the HOP daycare service. I always have many questions concerning my son. Would he be causing trouble? Would people understand him? Questions go on endlessly. But the HOP staff listens vey attentively as I share these concerns with them.

The overnight trip to a hot spring was very special. It was a wonderful time connecting with other parents with children with special needs. I do believe that my child would be able to learn how to function better in the society by interacting with others through trips like this.

I do worry a lot about my child's future, but the HOP staff always come alongside with listening ears and encouragement. We as a family have many wishes that we thought that we have to give up. But I am starting to feel that with the help of Seminare, we may not have to give them up.
Miyuki Onodera: mother of a child with special needs

My son regularly goes for a walk with his grandparents after school. His grandparents look forward to it and I am very happy they can have this time together. On other days of the week, my son joins HOP's activities.
At HOP my son sees many other kids from his school so it is a place where he can enjoy time with his friends. At home, he does not want to spend time studying, but at HOP, he willingly does. He also enjoys all the events that HOP organizes.
As a parent, I appreciate that they come pick him up and bring him home. That way, I can run my own errands and also accompany my other children's activities. My son's special needs requires constant care, but HOP staff are very good to my son.

Fujiko Onodera: mother of a child with special needs